Reports of Recent Talks
Talk by Sqn Ldr George 'Johnny' Johnson 8th May 2017 -
The Dambusters Raid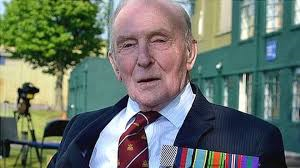 Report by David Verghese
It was with great anticipation and excitement that a full house of Society members and friends were introduced to the last surviving British member of the famous 617 Squadron RAF 'Dambusters Raid' mission in May 1943, namely "Johnny" Johnson DFM.
Johnny spoke clearly without notes or pictures but had us spellbound for the next 40 minutes. We learnt that he hailed from Lincolnshire and volunteered to join the RAF in November 1940 when he was then sent to Florida in the USA to be trained as a bomber pilot. He stated that he failed to qualify as a pilot but re-trained to be a gunner, and after being posted to 97 Squadron at Woodhall Spa he attended a course - to become a bomb-aimer. In the rank of Sergeant he was allocated in his new role to the crew of an Avro Lancaster under the command of an American pilot named Joe McCarthy. 'Johnny' mentioned a couple of incidents which struck home the dangers of flying aircraft - seeing the crew of a downed Beaufighter waving frantically from their life raft in the sea, and then later after another mission, being told by their ground crew that an incoming canon round into their Lancaster had just missed the fuel tank and lodged in the aircraft, inches from the navigator's head.
In March 1943 McCarthy's crew were chosen to join a new Squadron (617) at RAF Scampton which was formed to train for a secret mission under the very experienced Wing Commander Guy Gibson. 'Johnny' had an immediate problem in that he was due to get married but leave was not allowed – McCarthy appealed directly to Gibson ... and 'Johnny' got his marriage leave.
They trained to operate at 100ft over lakes and to drop to 60ft to release this new 'bouncing' bomb – which 'Johnny' described as looking like a dustbin. The day before their mission 'Johnny' learnt that they would be in the second wave of five Lancasters detailed to attack the Sorpe dam, which they had to bomb directly from exactly overhead of the dam wall!
There were no flak towers facing them from the dam and 'Johnny' explained how he waited patiently until the tenth approach run before being satisfied he could release the bomb – much to the relief of the rear-gunner who vociferously commented accordingly. The latter saw the bomb explode with a tower of water a '1000ft tall' – but the dam was not breached, only damaged. On the return flight " we passed over the area of the Mohne dam and there was water everywhere" and a short time later "we attacked an armoured train" – which immediately responded with a heavy barrage of return fire. After crossing the channel they were relieved to land on the grass airfield at RAF Scampton.
DV