Reports of Recent Talks



Three reports below, most recent at the top.


Sqn Ldr 'Johnny' Johnson - The Dambusters Raid
John Puddy - Admiralty Water Carrier 'Freshspring'
Paul Barnett - Rout on the Riveira



Talk by Sqn Ldr George 'Johnny' Johnson 8th May 2017 -
The Dambusters Raid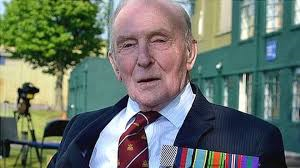 Report by David Verghese
It was with great anticipation and excitement that a full house of Society members and friends were introduced to the last surviving British member of the famous 617 Squadron RAF 'Dambusters Raid' mission in May 1943, namely "Johnny" Johnson DFM.
Johnny spoke clearly without notes or pictures but had us spellbound for the next 40 minutes. We learnt that he hailed from Lincolnshire and volunteered to join the RAF in November 1940 when he was then sent to Florida in the USA to be trained as a bomber pilot. He stated that he failed to qualify as a pilot but re-trained to be a gunner, and after being posted to 97 Squadron at Woodhall Spa he attended a course - to become a bomb-aimer. In the rank of Sergeant he was allocated in his new role to the crew of an Avro Lancaster under the command of an American pilot named Joe McCarthy. 'Johnny' mentioned a couple of incidents which struck home the dangers of flying aircraft - seeing the crew of a downed Beaufighter waving frantically from their life raft in the sea, and then later after another mission, being told by their ground crew that an incoming canon round into their Lancaster had just missed the fuel tank and lodged in the aircraft, inches from the navigator's head.
In March 1943 McCarthy's crew were chosen to join a new Squadron (617) at RAF Scampton which was formed to train for a secret mission under the very experienced Wing Commander Guy Gibson. 'Johnny' had an immediate problem in that he was due to get married but leave was not allowed – McCarthy appealed directly to Gibson ... and 'Johnny' got his marriage leave.
They trained to operate at 100ft over lakes and to drop to 60ft to release this new 'bouncing' bomb – which 'Johnny' described as looking like a dustbin. The day before their mission 'Johnny' learnt that they would be in the second wave of five Lancasters detailed to attack the Sorpe dam, which they had to bomb directly from exactly overhead of the dam wall!
There were no flak towers facing them from the dam and 'Johnny' explained how he waited patiently until the tenth approach run before being satisfied he could release the bomb – much to the relief of the rear-gunner who vociferously commented accordingly. The latter saw the bomb explode with a tower of water a '1000ft tall' – but the dam was not breached, only damaged. On the return flight " we passed over the area of the Mohne dam and there was water everywhere" and a short time later "we attacked an armoured train" – which immediately responded with a heavy barrage of return fire. After crossing the channel they were relieved to land on the grass airfield at RAF Scampton.
DV
 
----------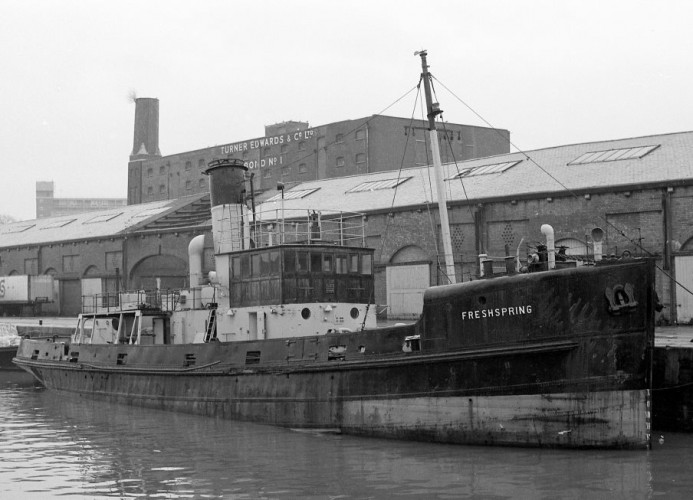 Talk by John Puddy 27th March 2017 – Admiralty Water Carrier 'Freshspring'
Report by Roger Francis
 
We welcomed our speaker John Puddy, who is Chairman of the ss Freshspring Society. He described the way in which the Freshspring which was built in 1946, was rescued from the threat of the scrap yard, and how it is being brought into service. Accompanying his presentation was a finely detailed model of the ship, which started service as a fresh water carrier attached to the Royal Navy in the Port Auxiliary Service. She was mainly based in Malta for her service.

When she was laid up she was put into a ready reserve mode, which meant that she had to be kept in a good condition in case she was needed again. As a result, the engine room in particular is still in a very good condition, and her triple expansion steam engine is well greased and all the brass work still polished. The steam auxiliary machinery is also in very good condition.

John described how she had been towed from Newnham on Severn to the dry dock in Sharpness, and how they had merely ensured that the ship was seaworthy for a tow to Bideford, where she now lies and is being refurbished. The plan is to do some structural modifications and create a new passenger saloon using the water tanks. It is hoped that she will be able to carry 100 passengers on coastal cruises. There is also a plan to run her as a training ship for the Merchant Navy .

Since the talk, I have joined the Society, and I went to Bideford for the Society's AGM. I was encouraged to do so by an old friend and colleague, Capt. Kevin Slade, who, in retirement has been appointed Chairman of the Merchant Navy Training Board. Kevin has also joined the Freshspring Society as he sees the potential to encourage the MNTB to consider the ship for training purposes, especially for steam training for marine engineers. There is certainly an atmosphere on board which belies an enthusiasm to get the ship back into service in a role that is useful to the marine community.
 
--------
Talk by Paul Barnett 13th March 2017 - Rout on the Riveira
 
Unusually, the talk was sparsely attended, due to seasonal illnesses, but it was given by a well respected speaker, who has presented talks to us before. In a sometimes light-hearted way, Paul dealt with a very serious tragedy, which happened during the build up of the preparations for the "D" day landings of the Second World War. It is always difficult to apportion blame with hindsight, and Paul did not attempt it, but it left the audience with a lot of "what ifs". The basic story was that several hundred American troops were loaded into Dukws, and sent ashore towards Slapton . The whole area around Slapton had been requisitioned some time before, and Paul talked about the upheaval of whole villages of people, some of whom never went back. The Government has also promised that no damage would be inflicted on property, but if it was, then they would put it right. The properties along the shore road were more or less reduced to rubble in the days of the invasion exercises, because the commanders had stipulated that the exercises would be carried out as close to the actual conditions that were envisaged, both at sea and after landing. That meant that live ammunition was being used. Thus, when the Dukws were attacked by a patrol of German E Boats, most of the troops thought it was part of the exercise. When one of the landing craft blew up, with a huge loss of life, apparently there were comments of "gee! How did they fake that, it was certainly realistic". As a result, hundreds lost their lives, before the E Boats were dealt with.

The evening left everyone talking about the what ifs long into the night.